UNLEASHED: FRESH MEET artist Kim Nolan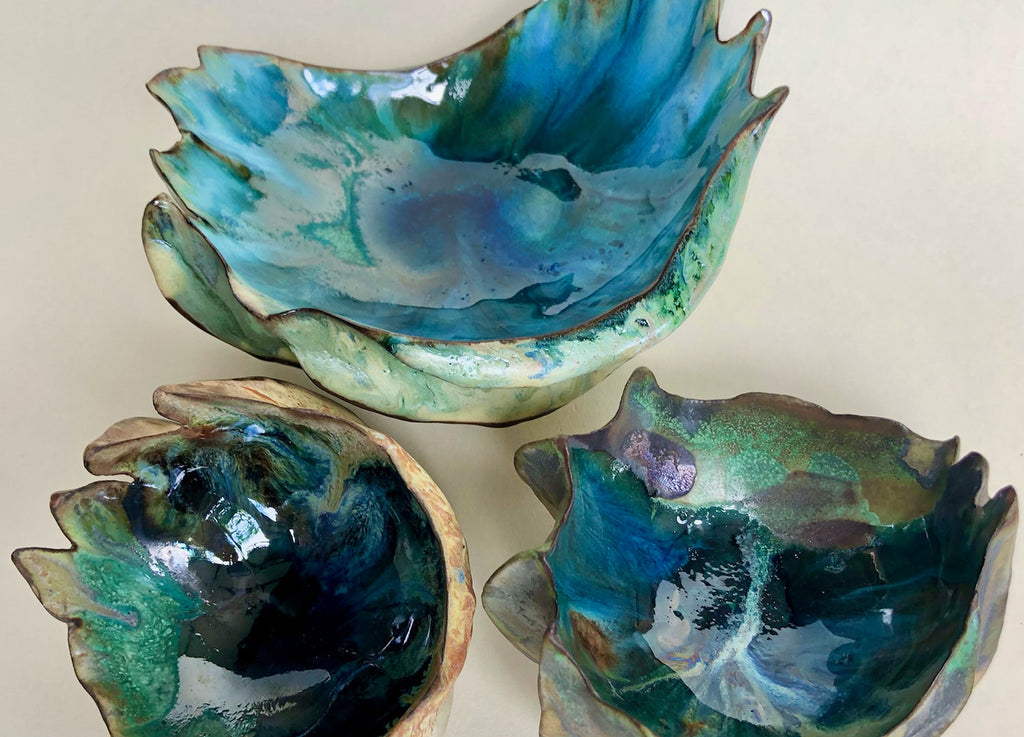 UNLEASHED: FRESH MEET Kim Nolan – Cairns – nominated by Ashleigh Campbell, Director, NorthSite Contemporary Arts 
Kim Nolan holds a diploma in hot glass and production from Whanganui Polytechnic in New Zealand. She relocated to NSW and then QLD, eventually settling in Cairns in 2018. She currently works from her studio on the northern beaches.

Inspired by the environment in which she lives, Nolan is driven to make forms which reflect her fascination with the forces of nature on organic materials.

With no molten glass facilities nearby, her focus is now on ceramics, with an emphasis on glazes, incorporating glass into the firing process, creating textures which reflect the impact of nature on man-made and natural surfaces.

THE SHALLOW AND THE DEEP

The work for this exhibition was inspired by environmental concerns. Inspired by the beauty and majesty of the natural surroundings where she lives.
She usually makes an initial form and then works the textures of the inside and outside, to give an additional layer of depth and intrigue to the form. Many of the forms are inspired by her fascination for the growths and creatures in rockpools, particularly those she remembers from the beaches of her childhood in New Zealand. She is equally fascinated by rock formations and fossils and the patination formed through the impact of weather and other forces of nature.
Her main concern in this work is to create awareness of the impacts of human activity on the natural environment. She emulates the erosion and reclamation of the sea on metals and plastics and other non-biological and foreign materials, discarded by humans.
The barnacles and textures mark the passing of time and the 'efforts' made by nature to repair and reclaim. In her exploratory ventures to the shoreline, she merely observes and removes nothing. Instead, she returns to her studio to make imitations of the things she has seen.

Nolan is passionate about treading lightly on the earth, her message is to consider with care the impact each one of us has on the environment.

IMAGE CAPTION 1: The Shallow and the Deep (installation view) UNLEASHED -  FRESH MEET artisan 2022.
IMAGE CAPTION 2: Rockpool Vessel (detail), 2022, ceramic.
IMAGE CAPTION 3: Rusty Steel Tube (detail), 2022, ceramic.