UNLEASHED: FRESH MEET artist Kate Harding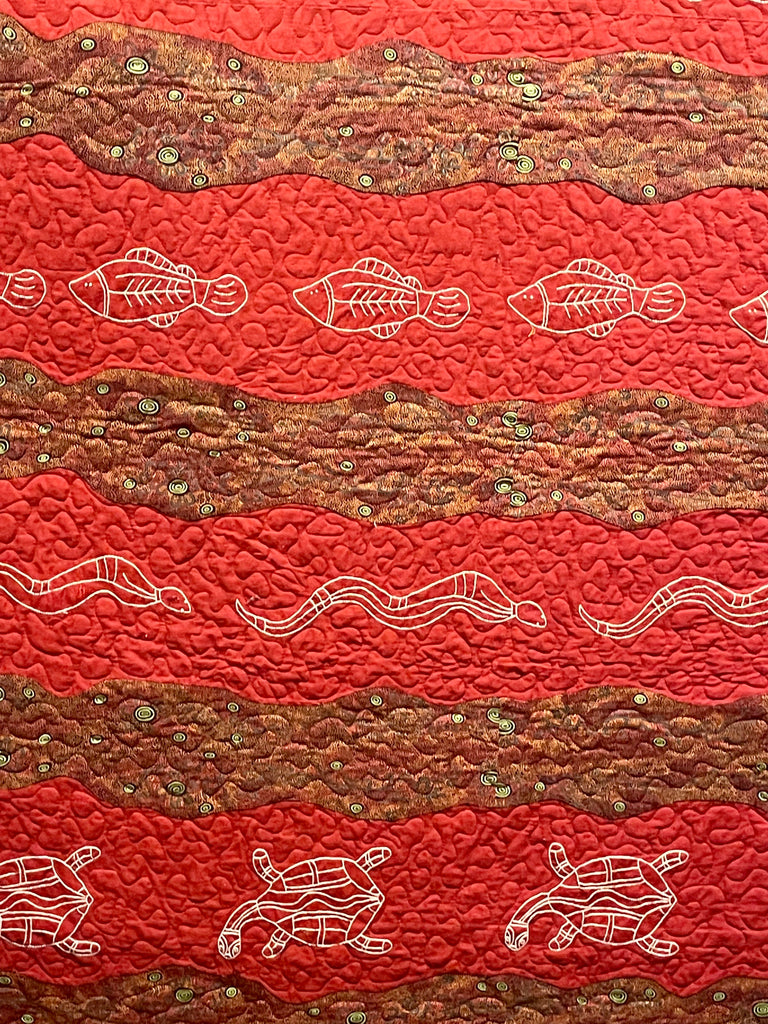 UNLEASHED: FRESH MEET Kate Harding – Mackay – nominated by Tracey Heathwood, Director, Artspace Mackay 
Kate Harding, the eldest of 12, a proud descendant of the Bidjara, Ghungalu and Garingbal peoples, 
Quilts on Country
Kate Harding is a textile artist, who since 2008 has employed traditional quilt-making practices to tell her stories of family, culture and Country.
Harding's Country includes Carnarvon Gorge, Springshaw and Rolleston in the central Highlands and Injune, a rural town in the Mananoa region of Queensland. Her people were taken from their Country to live in the mission, where there was a mixture of various language groups living together. Many are now indigenous rangers on the mission.
Kate's mother grew up on Woorabinda Mission – between Rockhampton and Emerald. Her father's Country covers the area around and between Roma and Mt Moffat.
Her father's people would return to Country for ceremonial practices. Kate first went back to Canarvon Gorge, in the Southern Brigalow Belt bioregion in Central Queensland, when she was just 6 months old, then not again until she was in her early 60's. It is a very beautiful and important place.
Kate's first quilt was made for her son.
Her knowledge of quilting came from sewing lessons at school. In her own words, she "can't sit still, is always doing something with her hands…leatherwork, macramé, Japanese beading.." She has been working towards reviving old practices and to record and preserve her stories of family and country through what she makes. She sees each work as complete, a story in itself.
She feels that her hands hold the knowledge and tell her what to do, her making is intuitive.
"The language of your hands tells the language of your country."  
She has always, as far as she can remember, hand stitched and quilted, although now, in her 70's, her hands have begun to hurt, so now she sends her work to a specialist quilter for finishing.
When her son, D. Harding, invited her to collaborate on an exhibition at Monash University Museum of Art, she began remapping the stories from her country through her quilting practice.
Her soft, warm quilts express her love and care for her family; past, present and future. She sometimes dyes the fabrics with ochres, gathered from her Country.
She is currently working on a mat of aboriginal prints for her grandson's school.
IMAGE CAPTION (main image): Sandy Creek, Clermont, 2022, fabric and thread, 2088 x 2000 mm.
IMAGE CAPTION 1: Untitled, 2022, fabric and thread, 1040 x 1750 mm.
IMAGE CAPTION 2: Sandy Creek, Clermont, 2022, fabric and thread, 2088 x 2000 mm.
IMAGE CAPTION 3: Sandstone Cliff, Carnarvon, (detail) 2022, Fabric and thread, 2000 x 1450 mm.