In Conversation with Ceramicist Carys Martin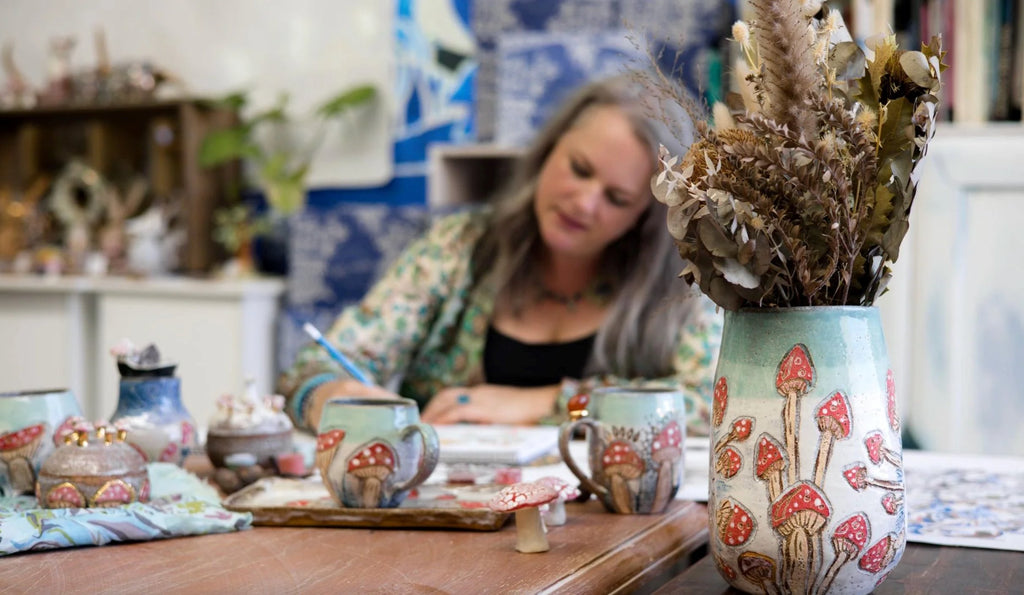 In Conversation with Ceramicist Carys Martin
In the lead up to her anticipated exhibition and oracle card release next month, we wanted to catch up with Carys Martin to discuss her practice and what inspires her to keep creating.
Carys draws inspiration from nature, folklore and rituals. Her designs vary from practical, functional everyday art to statement pieces. Carys originally trained as a print maker and this often shows through in the detail of the surface decoration. You will find raw clay surfaces contrasting with a shiny, smooth glaze finish or highly decorated surfaces alongside negative space. The inspiration behind many of her pieces stem from growing up in a remote Cumbrian hamlet, where relics, stories and folklore were commonplace.

What media do you work with, and why have you chosen them? 
I am currently working in clay. I love how clay pushes you technically to improve with each new piece you make. I have experimented with many different media over the years, specialising in printmaking, painting and woodworking during my Art degree. I am continually pulled back to working with clay, as I love the continual learning and challenges it provides me. I enjoy pushing myself technically to throw larger forms and construct more challenging sculptural pieces that I can then use as my canvas to decorate. I enjoy creating complex surfaces with textures and layers of glazing. I have spent a number of years building my knowledge of glaze chemistry and testing to produce glazes unique to our studio. It is the myriad choices in ceramics that holds my interest.
What can you tell us about your processes, how does your artwork get from concept to the final stage?
My head is constantly full of ideas and concepts for creations. Sometimes they are pieces that come to me in a dream and other times it is a memory, concept or feeling that needs to be expressed. With my larger pieces, I will often have an idea that develops over a number of weeks or months and I will play out the making process in my head a number of times before I make it, or occasionally I wake up having dreamt about making a piece and will have worked out any issues in my dream and I can simply create the piece. I always have a sketchbook or three on the go and spend time drawing and redrawing images so that they are very familiar to my hand for when I need to draw or paint them on the curved clay surface. 
What is your main inspiration / who or what are your biggest influences?
I grew up in a very creative environment. My mother is an artist and the village of Banks where I grew up has been home to a number of prominent artists over the years, most notable Ben Nicholson and his wife Winfred Nicholson, and was home to the LYC Museum and Art Gallery. Li Yuan-chia bought the farm buildings from his friend and neighbour, the artist Winifred Nicholson and transformed them into the LYC Museum. At its peak, it hosted four new exhibitions a month; each accompanied by a catalogue that he designed and printed. Some of the artists shown ranged from local artists (Andy Christian, Susie Honour) to totemic national figures (Paul Nash, Barbara Hepworth) and contemporary artists, now of international renown (Lygia Clark, Andy Goldsworthy), but then barely known in Britain. Apart from galleries, LYC Museum also had a children's art room, library, performance space, printing press, communal kitchen and garden. It was an open space for the multiple possibilities of art. During my childhood years I spent many happy days in the children's room, playing in the gardens, exploring the exhibition spaces and accessing Li's never ending supply of paper. 
Throughout my childhood my Mum exhibited her work and we were always in galleries and at openings. She was part of a fabulous community of artists who always encouraged me. Two of Mum's closest art friends were Malcolm and Rachel Gibson, who inspired my love for printmaking and Rachel continues to inspire me with her work. As a teenager and during my degree, I was fortunate enough to be included in a number of editions of a limited edition art book, called 'Real Art', that Malcolm produced, which was sold at the Tate Gallery in London. Being a part of this community from a young age opened my eyes to being a full time artist. 
Have you ever had a creative block? How did you move past it?
I continually have ideas on the go, and at varying stages of development, so creative block is never really an issue. If I ever needed fresh inspiration I have a plethora of valued art friends to reach out to. 
What keeps you creating?
I have always been compelled to create, to express my thoughts, feelings and memories and to share. I love how art in a home can evoke a feeling, it can influence how its owner feels and so in turn, how they behave and respond to situations. I want to create beautiful things that bring a little magic to someone's day.
Tell us about your studio, what sort of environment do you work in and what's your dream space?
I have a big 150m2 industrial unit for my studio, with a high ceiling and amazing light. It actually is my dream space. I have had this studio for three years. I enjoy the flow of creating production pieces for retail sale, teaching classes and creating art. It allows me greater freedom than when I had my home studio, but it also means I have more responsibility as I juggle the business aspect with the creative side. 
What is your dream residency and where would it be?
I feel very lucky to have a number of amazing people in my life that I can reach out to when I have questions, need to upskill or to simply bounce ideas around with. Furthermore, I have spent the last five years curating my ideal environment in my studio, so I currently feel no need to seek residency elsewhere.
What projects are in the future for your practice? 
I am currently working on a project in collaboration with my Mum. We are combining our creative talents together and creating an Oracle Card deck and book that draws inspiration from our childhoods in northern Cumbria. It is a project that has seen me develop my creative writing skills as we bring meaning, messages and weave folklore into woodland animals and trees. It has also been a fabulous inspiration for some of my recent larger ceramic sculptures and I am excited to see how this develops. 
To view Carys Martin's designs and products, visit our store here:
 LINKS | Shop Carys Martin