Curator Kevin Wilson introduces new group exhibition 'DYSTOPIA / UTOPIA: 2070'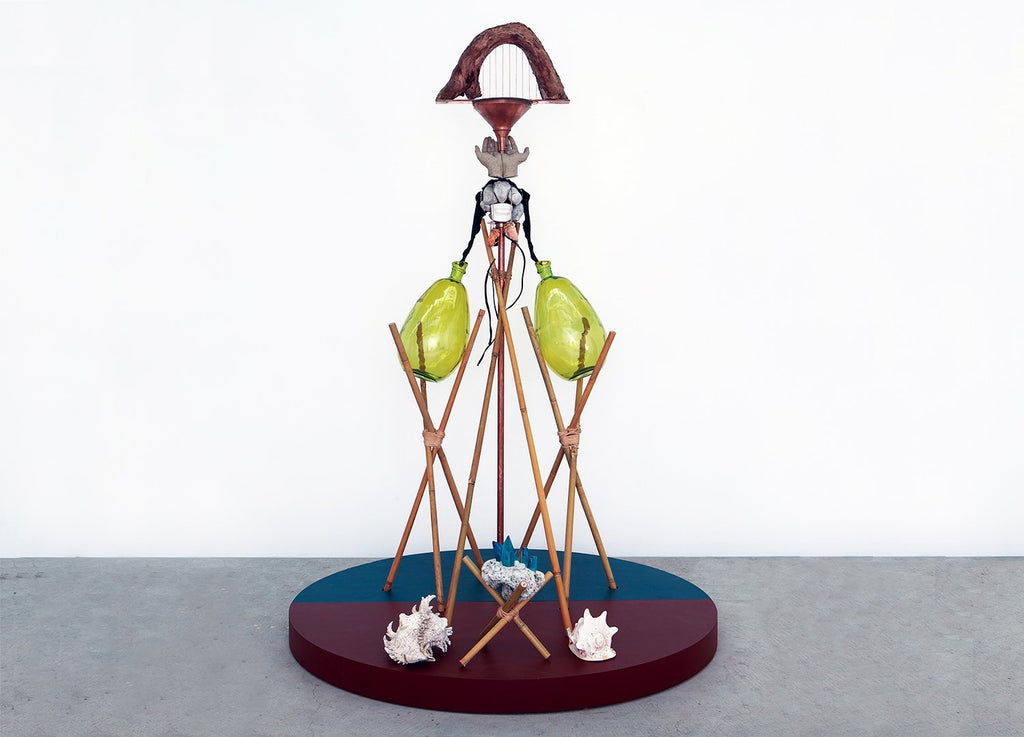 Are we heading for a dystopian or utopian world in 2070? No doubt, given what we have been experiencing recently, whether it be cataclysmic natural events like bushfires or world-wide pandemics, most people would bet on a dystopian future. In this upcoming exhibition artists and writers to imagine possible future scenarios.
Q: Kevin, please tell us a little about Utopia / Dystopia? 
Dystopia/Utopia: 2070 is an exhibition concept that links speculative fiction with visual art and adds a major augmented reality (AR) experience to the physical artwork. It is an exhibition that looks far into an uncertain future. Selected artists were given the opportunity to work with stories sourced from the facebook group, Aussie Speculative Fiction or other fictional works of their choice.  Stories were selected that explored future scenarios in rural, city, seaside contexts etc. Whilst most of the works depict a dystopian future, some are utopian. Even within the dystopian scenarios there is at times a utopian hope in developing new ecologies and possibilities of living. Artists have created works that explore the limited future availability of materials as well as materials that enhance mental stimulation and materials that house new technologies. Each of the works has a major AR layer which basically has a story telling focus and links the work with the artist's chosen story. The AR also provides a deeper insight into elements in each work.
Q: What is the background to the exhibition? How and why was it developed?
When, working with artisan staff to develop a program to celebrate artisan's 50 year history milestone we thought that we should not only cover off on key themes and people from those 50 years but also look forward 50 years to see how artists may respond to various scenarios. Consequently when l started developing this exhibition l  selected artists who weren't necessarily traditional makers, even though a strong sense of materiality existed in their work.  I also chose artists experienced in installation practice and who were willing to push their practice into unknown realms. Finally each of the artists selected had a strong interest in broader societal issues. The exhibition received a Visions Australia development grant and will after its first showing at artisan, tour to the Australian Design Centre in Sydney in August and to Caloundra Regional Gallery early next year with hopefully a more extensive tour in 2022 and 2023.
Q: Which artists and makers are included? 
Russell Anderson and Rebecca Ward, Christine Atkins, Charlotte Haywood, Susan Lincoln, Archie Moore, and Clare Poppi.  All of these artists are based in South East Queensland except for Charlotte Haywood who is based in Northern New South Wales.
Q: How do you describe the work in the exhibition?
The work combines sculpture, jewellery, small objects, installation and text.  It is a diverse body of work that is really forms part of a bigger concept that involves storytelling, sound and interactivity. This exhibition is more of an experience rather than a set of objects displayed in a bare gallery.  The visitor will be less likely to want to critique the formal elements of the physical work as one might in a normal exhibition but rather explore what a future world may have in store for us.
Q: Tell us about the interactive and educational aspect of the exhibition?
The augmented reality (AR) component of the exhibition is very extensive. Whilst audiences can still view the work without the AR, the experience provides a deeper insight into the work and to the broader theme of the future. The AR offers an opportunity for the exhibition curator to talk directly to visitors about the work, something that normally only occurs in a once off curator tour. Characters that relate to each work also provide further information in an engaging way. The exhibition also comes with an education kit that covers off on the curriculum from upper primary through secondary and is a great resource for teachers.
Q: Why is it important to reflect/predict future scenarios?
It's important because it tells us more about ourselves now. But for artists it provides an opportunity to push their practice into new realms and to start to think how new technologies can entwine with their material practice. In Kamilaroi/Bigambul artist Archie Moore's work he actually questions the notion of earlier predictions of Australian Aboriginal people dying out
IMAGE: CharlotteHaywood, Viriditas photo by Michelle Eabry
This project has been assisted by the Australian Government's Visions of Australia program