Curator Cassandra Lehman introduces new group exhibition 'Pulp Friction'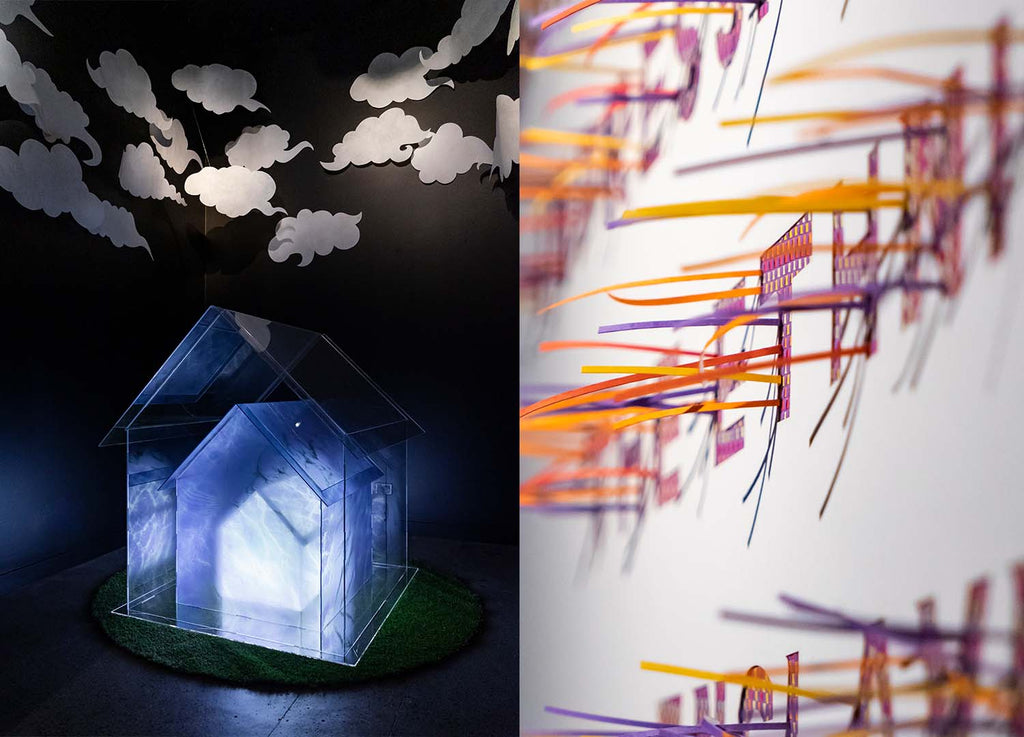 Embie: Cassandra, it's lovely to speak with you about the exhibition Pulp Friction, showing at artisan from 2 October – 12 November. Can you tell me about the artists involved?
Cassandra: Pulp Friction showcases the works of three Brisbane-based female artists, Elaine Jiang, Christine Ko and Pamela See, who share commonalities in their practice and in their Chinese heritage. They identify as part of the Chinese diaspora in Australia. The exhibiting works reference particular aspects of their background, migrant experiences and the traditional paper-based practices which originated from China. The artists have different disciplines from one another, yet the works are all contemplative, political and theoretical.
Embie: What about paper as materiality allows the artists to express their cultural heritage?
Cassandra: Well, one of the things I found interesting with Pamela's practice is her in-depth research into the origins of Chinese paper cutting. Each region of China grows different plants, and so the outcome of the paper changes. The plant may have a shorter or a longer fibre. For example, bamboo paper is different to paper made from mulberry, as mulberry creates a very strong paper. That's something that I found utterly fascinating in my conversations with Pamela. We forget that culture is connected to nature and those cultural practices are connected to the paper too.
Embie: I noticed how the works are intricate and delicate due to the fragility of the materiality but are crafted to appear bold and sometimes even witty in language, as seen in Elaine's typography works. Although conceptually different from one another, they are all driven by the common issues and circumstances faced by Chinese people in Australia. How is this shared in each artists' central work?
Cassandra: Pamela's work is a large paper cutting of a rooster with feathers scattered everywhere. It implies a cockfight has happened and it references the political 'posturing' as well as the 'chest bumping' of patriarchal systems. Pamela also references domestic life by showing the closeness of family and the presence of women as there is a clothesline with clothes hanging which lingers in the background of this cockfight. This brings in a soft and feminine tone to the scene.
Christine is also interested in domestic settings, home and feeling 'in-between' as a migrant in Australia. This is explored through her work of a house built of multiple transparent layers where a light reflecting water glows within. The light travels through every layer and it reflects onto the gallery's walls. She highlights the use of paper folding by utilising multiple sorts of little folded square houses in Perspex. It's beautiful and poetic.
Elaine works within the space of design, language and communication. Her tightly woven typography works highlight the traditional weaving, clothing and architecture unique to the regions in China that she is connected to, particularly in Zhenyuan Village.
Embie: Pulp Friction includes a collaborative element where the audience can be a part of the exhibition. How can people get involved?
Cassandra: We invite members of the public to come into artisan, not just to explore the exhibition but to also create their own paper works which can be displayed on the wall, alongside the artists' work. There will be a small clip to guide you through the paper-cutting process. The gallery will have this organic element where it grows over time from the community's ongoing contributions.
Embie: Considering the recent events of discrimination and racism experienced by not only the Chinese community but the Asian community throughout the COVID-19 pandemic, why is it important to bring forth this exhibition to our audiences?
Cassandra: It's really important. At artisan, we are focused on inclusivity, understanding and diversity. Our job is to connect people to local and international skill based, craft practices. We must examine who we are collectively, what has happened in the past and where our experiences come from. You never understand your own culture until you step outside of it.
Questions by Embie Tan Aren | Photography by Louis Lim 2021