LINE, POINT, PLEIN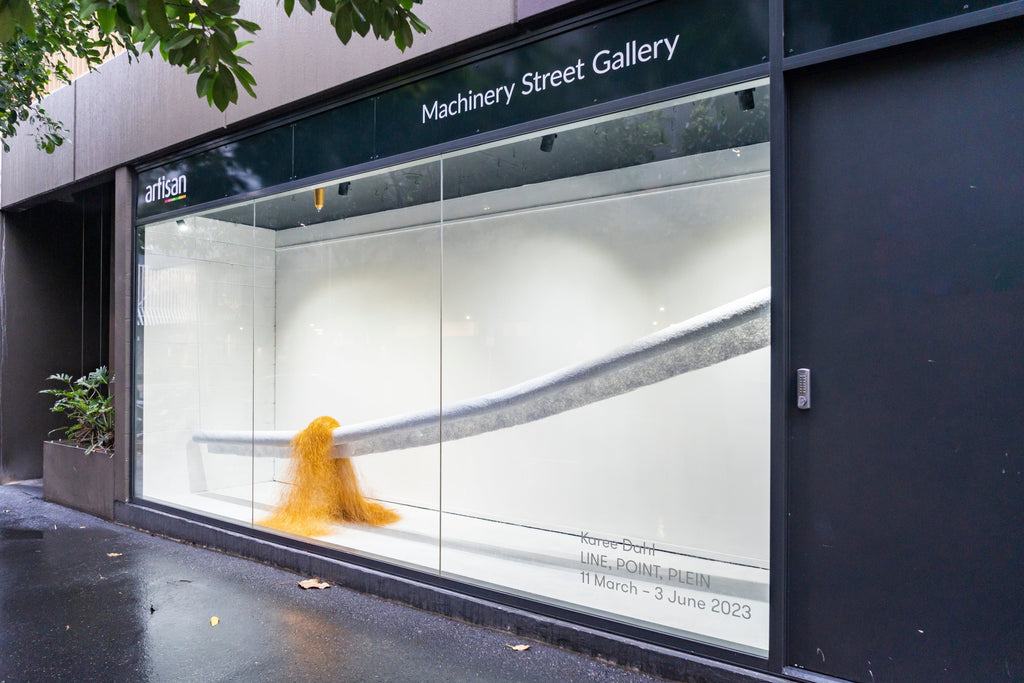 MACHINERY ST GALLERY | 

11 March – 19 June 2023

 

| 

Opening event: Friday 10 March 18 – 8 pm


Artist: Karee Dahl
Medium: Textiles – Site Installation

Karee Dahl's creative practice is primarily concern with the processes and material relationships between textiles, drawing, painting, sculpture, and installation practice.  Dahl refers to her practice as, "an obsessive manipulation of thread – a continuous drawn line of fibre." Her works range in a variety of sizes, colours, pattern, working both aspects of two and three dimensionality, maintaining a fragility in surface quality, yet a resilience in structure, that favours a direct viewing visual experience to appreciate the material and the performative process, qualities that evade photographic documentation. 
'Line, Point, Plein' is a response to the 24 hour viewing space in Machinery St. The work will intervene and interrupt the quiet of this sealed window space on a busy street. An accumulation of lines of gold thread that reach and spill onto the floor,  as time goes on piling, slipping, re-mingling and further spreading out across the space, mimicking the experience of window shopping with its ever changing reflections on daily life and the social lines of thinking that shape and reshape the human condition - a lived reflection, looking out and in.  

This work is a continuation on a series - 'Sketching Space in Gold, made for a space in Bastakiya Dubai, UAE in 2013
Hervey Bay based Karee Dahl's diverse career has evolved through an extensive practice as an artist and arts practitioner in Australia, Southeast Asia and South Asia, (United Arab Emirates). She grew up in Crows Nest, Queensland Australia, studied at CDU Northern Territory majoring in Arts [Fine Arts – Drawing], and completed a Master's degree in Business [Arts and Cultural Management] at the University of South Australia, generating an interest in both the practice and the management of art. Her primary focus continues to be the application of art dealing with issues with culture, economy and the human condition.
Hero Image: LINE, POINT, PLEIN installation by Karee Dahl in Machinery St Gallery, Photography by Louis Lim