UNLEASHED 2022: FRESH MEET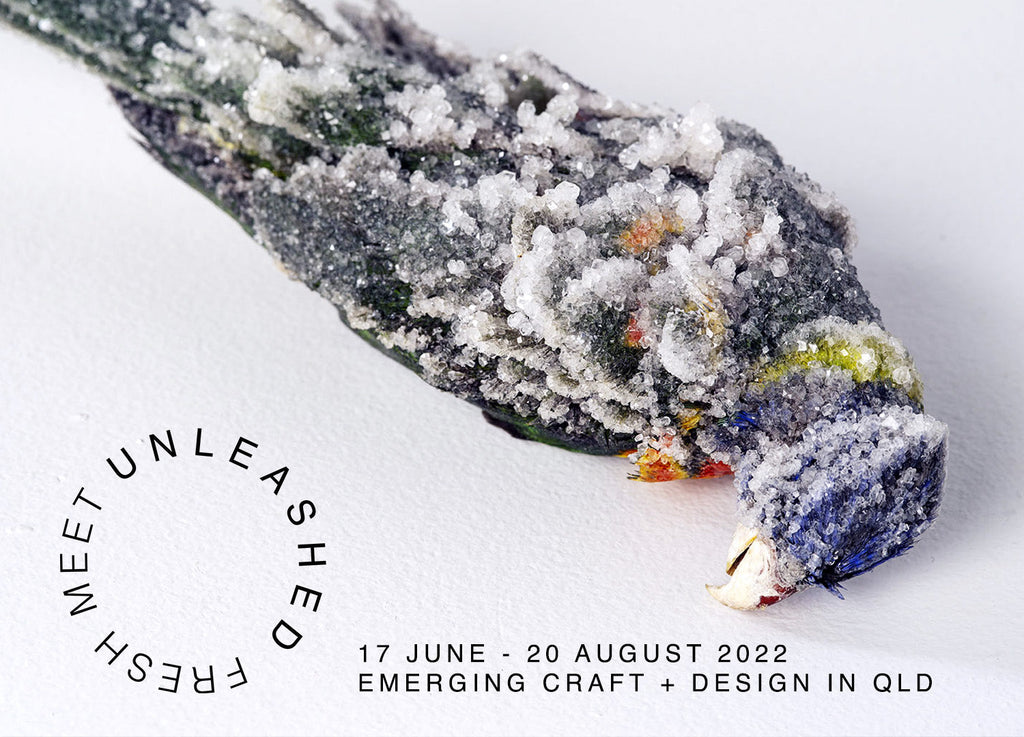 Main Gallery and Small Object Space
17 June - 20 August 2022
Unleashed is a longstanding biennial exhibition project, drawing together a select cohort of early-career Queensland craft and design practitioners and launching their careers. Exploring the convergence between craft and design, Unleashed has been instrumental in launching some of our state's best talent.

This iteration will, for the first time, deliver a co-curated overview from across regional Queensland. An invited curatorial panel of arts educators, curators and practitioners from 5 different regional communities will each nominate one exemplary early career practitioner from their region. artisan staff will work with colleagues from: HOTA, NorthSite Contemporary Arts, University of the Sunshine Coast, Mackay Artspace and University of Southern Queensland.
Above image credit: Dr Ellie Coleman, Dark Rituals Magical Relics From The Like Art Spell Book (2018). 
Unleashed 2022 exhibitions images | image credit left to right: Hailey Atkins, 2022 | Kim Nolan, 2022 | Kate Harding | Dr Ellie Coleman | Photography by Michelle Bowen 
2022 UNLEASHED artists:

 
1. 
IMAGE CAPTION: Mycelium (Ganoderma steyaertanum), sawdust
STUDIOFLEK | Chris Miller and Lisa Kajewski |

 
Gold Coast | 
Nominated by Ruth Della, Curator, HOTA (Home of The Arts)
1.23 million tonnes of domestic kerbside waste gets sent to landfill each year in Queensland.
A significant portion of this is less than 5 years old, herein lies the problem of fast furniture, in turn the inherent failure of capitalist ideologies. As such this work explores an alternate possible future for the fast furniture industry. Suggesting temporary furniture solutions made from waste, which is grown rather than toxically fabricated.
 Rather than making furniture under the guise of lasting, this project seeks to make figures with an intentional short life span. Made from organic waste from the food and furniture industry, the works are grown in forms in a unique biological symbiosis.  Mycelium, the root structure of mushrooms feeds off the waste, bonding the bi-product of other industries. The result is a lightweight off-white colour, chipboard like structure which can be broken apart and biodegrade in a home composting system. Instead of adding to the already toxic spillage of current landfill, the works will add a greater level of biodiversity to the backyard vege-patch.
IMAGE CAPTION 1: A two-tiered figurine with a warm globe nestled within the concave form of the Mycelium. Materials: Mycelium (Ganoderma steyaertanum), sawdust, LED light, frosted glass globe | IMAGE CAPTION 2: A singular concave tube with a warm globe. (detail) Materials: Mycelium (Ganoderma steyaertanum), sawdust, LED light, frosted glass globe.
IMAGE CAPTION 4: The fourth prototype (coincidentally with four legs), pairs neatly with Stool 3 and Side Table 3 to create a neat biodegradable morning coffee setting.
--
2.
IMAGE CAPTION : Set of knives, forged 1084 high carbon steel blades with various timber handles, composite, and recycled brass details, 2022.
Dan Watson | 
Sunshine Coast | 
Nominated by Megan Williams manager, University of Southern Queensland Art Gallery 
Dan Watson's hand forged knives and homewares are created in his home studio in Maleny. Each one unique, their beautiful patina and hand finished handles are individually crafted.
His aesthetic is influenced by his studies in Sociology, Creative Industries in Film and former employment building dry-stone walls as a track worker in Tasmania and with the indigenous community of Millingimbi Island. His desire is to create beautiful, hand-crafted artefacts, for a sustainable future. He first started making knives in winter in Tasmania, as a distraction from the cold, inspired by his love of cooking.
Self-taught, he is influenced by his artist partner and very creative social network. He is happy to have found his niche.
IMAGE CAPTION: Hand Forged Chef Knife, 2022. High carbon steel, black wattle and hairy oak handle | Wiltshire Rasp Blade (detail), 2022. Australian Wiltshire rasp, hairy oak handle, black wattle says knife sheath | Hand Forged Chef Knife (detail), 2022. High carbon steel, Tasmanian black wattle and composite handle.
--
3.
IMAGE CAPTION :  Lucent Creatures, Lorikeet #1, 2018, taxidermy lorikeet, crystals, 22 x 7 x 3 cm.
Dr Ellie Coleman
 | Toowoomba
Nominated by Dr Beata Batorowicz, Associate Professor, School of Creative Arts, University of Southern Queensland 
Dr Ellie Coleman Doctor of Creative Arts, University of Southern Queensland, 2021. Coleman is an installation artist who is passionate about practice-led research and animal ethics particularly in contemporary art.  Her research interests include vegan art practices pertaining to the broader role of animal
ethics in contemporary art. 
Lucent Creatures (2018 - 2022) explores concepts of mourning, loss, repurposing and - more broadly - animal ethics in contemporary through crystallised animal skulls and taxidermy birds.
Reprocessing animal remains into contemporary art objects encodes the animal works with ethical considerations and insights pertaining to animal rights. This series responds to the devaluing of animals and how I can debunk human-animal hierarchal by reassessing problematic perception and the affiliated 'social value' of animals. By confronting the idea of death and the importance of all life through showcasing 'deceased animals' these jewelled artefacts occupy a new liminal space between animal ethics and vegan philosophy. This strategic approach of death becomes a reminder of our own mortality.
This work also addresses strategies of perceived value by shifting the reading of the skulls by representing them as highly valued jewelled animals within a gallery context. That is, I invoke a sense of re-evaluation of the animal as an art form, bringing attention to the individual animals as much as the entire collection installed in the gallery space. In doing so, my work provokes audiences to reconsider the animals as something more than just 'dead matter.' They become more than a mere material through the acceptance they are the bodies of other animals. In this way, I tell their stories and pay homage to their lives rather than celebrate their deaths.
IMAGE CAPTION: Various works, Unleashed 2022 installation, Billy Goat Gruff, 2022, raw wool, goat horns, 29 x 27 x 90 cm.
--
4.
IMAGE CAPTION (main image): Collapsed Vase, 2021. steel, paper, PVA, dimensions variable.
Hailey Atkins
 | Brisbane
Nominated by Cassandra Lehman, curator, artisan 
Atkins' practice employs a deliberate clumsiness to exude a faux modesty and a humility that bows to the form and materiality of her work. With humour and affection, she evades definition, raising serious questions about the seriousness of serious things. 
In Sol Le Witt's famous 1965 letter to Eva Hesse, he responded to her creative struggles by suggesting she should deliberately make bad, ugly work, to find her way though:
Just stop thinking, worrying, looking over your shoulder wondering, doubting, fearing, hurting, hoping for some easy way out, struggling, grasping,…Stop it and just DO!…
Don't worry about cool, make your own uncool. Make your own, your own world. If you fear, make it work for you – draw & paint your fear and anxiety…
You must practice being stupid, dumb, unthinking, empty. Then you will be able to DO!…
Try to do some BAD work – the worst you can think of and see what happens but mainly relax and let everything go to hell – you are not responsible for the world – you are only responsible for your work – so DO IT. And don't think that your work has to conform to any preconceived form, idea or flavor. It can be anything you want it to be. I know that you (or anyone) can only work so much and the rest of the time you are left with your thoughts. But when you work or before your work you have to empty your mind and concentrate on what you are doing.  After you do something it is done and that's that. After a while you can see some are better than others but also you can see what direction you are going. I'm sure you know all that. You also must know that you don't have to justify your work – not even to yourself.
Link to letter in full: https://borisinjac.com/sol-lewitts-letter-eva-hesse/
In discussing the concepts behind her works, Hailey Atkins explained that she has made a conscious effort to avoid following anyone on social media:
 
"Our tendency is to strive for perfection, to try to reconcile the irreconcilable. The difficulty lies in not supressing the accidental or uncomfortable, and in finding a way to accept discomfort. Following will lead you to find what you like, and to the knowledge that what you like already exists, and that therefore you do not need to create it, or in fact, anything."
 In Twofers, she responds to the materials. There is a discord between the two elements of the work, the paper, and the ceramic stand. The display base pieces are ceramic, a robust and more permanent medium than the flimsily fragile paper-pulp works they support. Deliberately placed in the window, the artist anticipates that, during the exhibition, the paper pulp will sag and fade through exposure to daylight. As the support outlasts the work itself, she is questioning the placement of value and offering a conceptual invitation to spontaneity.
The title Twofers refers to the fact that, while considered sculptures, these objects operate as if they were on a 2D plane. They have two faces or fronts rather than an intended back and front, in a 2-for-1 deal. The paired elements in Twofers are deliberately not fixed or committed to one another, they can easily be separated and rearranged. Atkins is deliberately inviting the potential for change and loss and an intentional quandary towards notions of ownership and precision.
 Collapsed Vase similarly investigates the perceived limits of sculpture. Atkins' question was how flat she could make something before it 'disappears' or can no longer be defined as a sculpture. This work is about presence; from one angle, the object has a substance and an authority that is strongly apparent, but from another angle, there's almost nothing to perceive at all. 
IMAGE CAPTION: Various works from Twofer series, 2022. paper pulp with partially glazed earthenware stands.
--
5.
IMAGE CAPTIONS: (left to right): Untitled, 2022, fabric and thread, 1040 x 1750 mm | Sandy Creek, Clermont, 2022, fabric and thread, 2088 x 2000 mm | Sandstone Cliff, Carnarvon, (detail) 2022, Fabric and thread, 2000 x 1450 mm.
Kate Harding | Mackay
Nominated by Tracey Heathwood, Director, Artspace Mackay 
Kate Harding, the eldest of 12, a proud descendant of the Bidjara, Ghungalu and Garingbal peoples. Kate Harding is a textile artist, who since 2008 has employed traditional quilt-making practices to tell her stories of family, culture and Country.
Harding's Country includes Carnarvon Gorge, Springshaw and Rolleston in the central Highlands and Injune, a rural town in the Mananoa region of Queensland. Her people were taken from their Country to live in the mission, where there was a mixture of various language groups living together. Many are now indigenous rangers on the mission.
Kate's mother grew up on Woorabinda Mission – between Rockhampton and Emerald. Her father's Country covers the area around and between Roma and Mt Moffat. Her father's people would return to Country for ceremonial practices. Kate first went back to Canarvon Gorge, in the Southern Brigalow Belt bioregion in Central Queensland, when she was just 6 months old, then not again until she was in her early 60's. It is a very beautiful and important place. Kate's first quilt was made for her son.
Her knowledge of quilting came from sewing lessons at school. In her own words, she "can't sit still, is always doing something with her hands…leatherwork, macramé, Japanese beading.." She has been working towards reviving old practices and to record and preserve her stories of family and country through what she makes. She sees each work as complete, a story in itself.
She feels that her hands hold the knowledge and tell her what to do, her making is intuitive.
"The language of your hands tells the language of your country."  
She has always, as far as she can remember, hand stitched and quilted, although now, in her 70's, her hands have begun to hurt, so now she sends her work to a specialist quilter for finishing.
When her son, D. Harding, invited her to collaborate on an exhibition at Monash University Museum of Art, she began remapping the stories from her country through her quilting practice.
Her soft, warm quilts express her love and care for her family; past, present and future. She sometimes dyes the fabrics with ochres, gathered from her Country.
She is currently working on a mat of aboriginal prints for her grandson's school. 
--
 6.
IMAGE CAPTION: Rockpool Vessels , 2022, ceramic.
Kim Nolan | Cairns
Nominated by Ashleigh Campbell, Director, NorthSite Contemporary Arts
Kim Nolan holds a diploma in hot glass and production from Whanganui Polytechnic in New Zealand. She relocated to NSW and then QLD, eventually settling in Cairns in 2018. She currently works from her studio on the northern beaches.

Inspired by the environment in which she lives, Nolan is driven to make forms which reflect her fascination with the forces of nature on organic materials.

With no molten glass facilities nearby, her focus is now on ceramics, with an emphasis on glazes, incorporating glass into the firing process, creating textures which reflect the impact of nature on man-made and natural surfaces.

The work for this exhibition was inspired by environmental concerns. Inspired by the beauty and majesty of the natural surroundings where she lives.
She usually makes an initial form and then works the textures of the inside and outside, to give an additional layer of depth and intrigue to the form. Many of the forms are inspired by her fascination for the growths and creatures in rockpools, particularly those she remembers from the beaches of her childhood in New Zealand. She is equally fascinated by rock formations and fossils and the patination formed through the impact of weather and other forces of nature.
Her main concern in this work is to create awareness of the impacts of human activity on the natural environment. She emulates the erosion and reclamation of the sea on metals and plastics and other non-biological and foreign materials, discarded by humans.
The barnacles and textures mark the passing of time and the 'efforts' made by nature to repair and reclaim. In her exploratory ventures to the shoreline, she merely observes and removes nothing. Instead, she returns to her studio to make imitations of the things she has seen.

Nolan is passionate about treading lightly on the earth, her message is to consider with care the impact each one of us has on the environment.

IMAGE CAPTION 1: The Shallow and the Deep (installation view) UNLEASHED -  FRESH MEET artisan 2022 | Rusty Steel Tube (detail), 2022, ceramic.
--
View our gallery space in 3D: