Curator Kevin Wilson introduces new group show 'artisan Collects'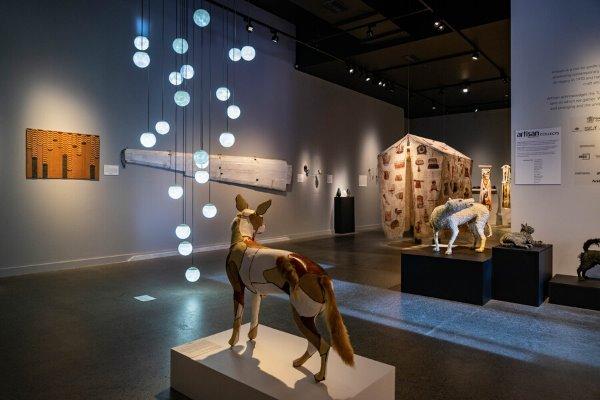 In response to the dramatic effect COVID-19 has had on the creative community, artisan is exhibiting the work of a selection of artists who use legacy craft skills and whose work sits beyond the functional. Curator Kevin Wilson discusses the exhibition, and the compelling examples of craft and design displayed.

Q: Kevin, please tell us a little about artisan Collects? 
artisan Collects is a new showcase of work by fifteen local designers and makers. Their collectable crafted artworks challenge and reposition what craft can be. The exhibition does not have a specific theme, except as a showcase of significant craft and design works that are conceptually developed contemporary art. The show aims to introduce some well-known artists and key emerging artists to the artisan audience.

Q: What is the background to the exhibition? How and why was it developed?

artisan COLLECTS was developed as a post-COVID introduction show for makers. Given the impact of COVID-19 on artists, we thought it appropriate to promote artists who create substantial work using legacy craft skills – work that sits beyond the functional, is collectable and not necessarily shown in our retail store.

Q: Which artists and makers are included? 

Fifteen well-known and key emerging local artists are included in the show including Aaron Micallef, Beata Batorwicz, Carol McGregor, Christine Atkins, Dagmar Maini, Gerhard Herbst, Glen Skein, Jo Bone, Karl De Waal, Lucy Quinn, Melissa Stannard, Paula Quintella, Pru Morrison, Sharon Muir and Sue Ryan.
Q: How do you describe the work in the exhibition?

The works are compelling examples of Australian craft and design. The pieces are diverse but sit well together in terms of tonal range, the exploration of ideas and the variety of materials and technique. They are bold, powerful, confident and idiosyncratic pieces that celebrate legacy craft skills and could stand tall in any contemporary art exhibition.

Q: What craft and design media and techniques do the contributing artists use?

The aim was to show a range of mediums and craft and design skills. The works are made from glass, ceramics, fishing materials, fabric, wood, metal, and found objects. As well as intricate hand carving, stitchery, metal casting and more.

Q: Why is celebrating craft and design skill important?
We live with craft and design skills every day - in our homes, in what we wear and the tools we use. But we don't often get to appreciate and celebrate these skills beyond their function. As the works in artisan COLLECTS go beyond the functional, are display items, they provide an opportunity to take the time to consider and celebrate craft and design skills beyond purpose.
Q: Can people purchase the works?
Yes, all works are for sale and we encourage everyone to come along and see the works in person at artisan. And if you want to know about purchasing any of the pieces in artisan Collects, artisan's staff have a wealth of knowledge and are happy to help.