artisan Collects | MALKI STUDIO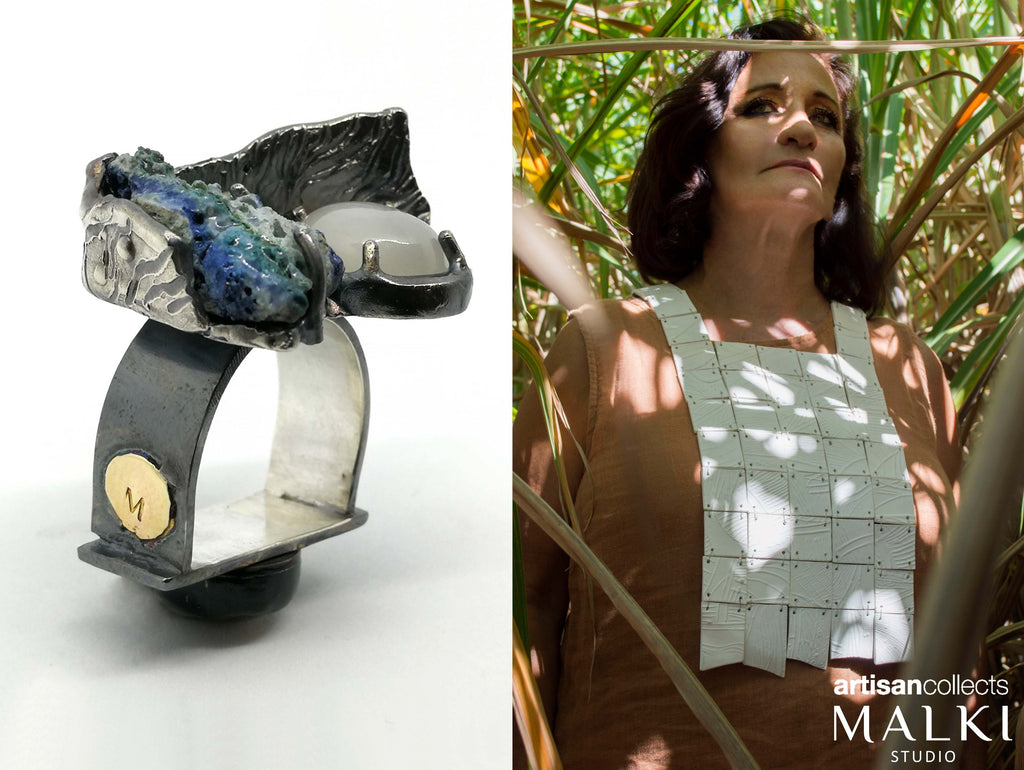 27 May - 24 June 2022
Launch 27th May | 6:00pm
Artisan Store - 45 King Street, Bowen Hills 
artisan collects is an initiative intended to support emerging artists, encourage art collection and advocate the value of craft. A curated selection of high-end work by a select group of artists are invited to each have their work featured inour retail space for one month. Artisan collects will launch with a showcase of prestigious work by the Queensland based collective, Malki Studio. We invite our community of makers, collectors, and art enthusiasts to join us for our launch event. The artisan collects launch offers an opportunity to meet the artists, listen to artist talks and preview or purchase the work of some of Australia's most exciting emerging artists.
Malki is not for the faint of heart. Comprised of artists Lia, Ariella, and Adam Anderson, Malki is a family-owned business specialising in handmade and culturally intersectional jewellery and art objects. Malki is characterised by the emotional grandeur of exaggerated archaeological, architectural and natural forms.
Malki is named after Lia and Adam's grandparents, and Ariella's parents. Together for over 70 years since they were teens in the Algerian city of Constantine. Arlette and Guy Malki's love is eternal. They are the bedrock of the Anderson family and the Malki business. Malki pay homage to the heritage, culture, landscape, history, and sociopolitical experiences of contemporary life.
Together, Ariella, Lia, and Adam make jewellery and art objects with soul - harmoniously incorporating their diverse expertise and practices. Malki's intent is to empower wearers of their jewellery with the magnificence of the distant past and to form deep bonds with the concepts, materials, and labour embodied in Malki Studio's artworks.
In conversation with MALKI
artisan caught up with artists Ariella, Lia, and Adam Anderson to get to know Malki and talk family, ambitions and the power of wearable art objects.
What is your preferred title?
We prefer Malki Studio or just Malki.
How would you describe you work?
Malki is characterised by the emotional grandeur of our exaggerated forms. We create bold, conceptually invested, and individualistic jewellery and art objects, meant to be seen and felt. You will always be aware of wearing a Malki piece. We believe that jewellery is art that offers a means of self-determination, of breaking free from socially prescribed roles, empowering through fantasy and transformation.
What mediums do you work in?
The three makers of Malki each work in distinct ways with different mediums. Our primary materials include metals, ceramics, and gemstones, but we often incorporate a variety of other mediums such as fabric or paint. We enjoy combining materials in an unconventional or subversive response to industry standards. We push the mediums we work with beyond their everyday use. We tend not to strictly adhere to the commercial jewellery industry's "acceptable" use of mediums, and experiment with surface treatment and mixed media.
How did you develop your skills (education and training)?
We have each developed our skills in different ways:
Lia has completed a Bachelor of Design specialising in industrial product design as well as a Bachelor of Applied Science. Her simultaneously creative and analytical thinking and grasp of design technologies have enabled her to develop skills that require both precision and emotion, a potent mixture.
Training in visual arts, Ariella has over twenty years of experience in exhibitions, public art, commissions, collections, and publications. Her experience in critical thinking, art making and her extensive knowledge of ceramics is abundantly evident in the artworks she creates.
Adam has completed a PhD on the ways in which fetish and costume in performance art inform identity. Adam's research has enabled him to produce and verbally articulate artworks concerned with the body's relationship with objects of adornment—especially jewellery.
Why do you create? Tell us about your journey and what motivates and inspires you to make?
We each have our own set of motivations for producing artwork. What we do share is a love of the materials. We don't just sell jewellery and art objects, we are also consumers. Our love for art partly stems from the innate and unique qualities of the varied materials from which they are made.  We are motivated by the process of creation and transformation of raw materials. These creations become transformative and empowering devices of self-expression. We don't consider art as a luxury or an indulgence, but a necessity to the artist, the consumer and society at large. As artists we feel it is our role to go beyond simply making desirable objects. Our works celebrate the freedoms of contemporary life and challenge outdated and problematic values. Finally, whilst navigating our separate paths, we all share a nomadic relationship to land, culture.
Where do you create? Tell us a little about your studio space/practice.
Like many others, the covid 19 pandemic has triggered us to reassess our values, the direction of our lives and careers. Lia and Adam both completed their degrees during the pandemic. The result of this was a decision to leave city life in Brisbane to pursue peace of mind in more natural surroundings, and the offered by life in a regional town. Moving to Bargara, a small coastal town near Bundaberg, brought us closer to our mother, an essential part of Malki.
Do you have any favourite soundtracks when you are creating?
As in any family there are things that we simply cannot agree on! One of these is music. Lia listens to annoyingly upbeat Israeli pop music from a distinctly Middle Eastern genre. Adam describes the lyrics as "text pach" (in Hebrew: "trash text"). Meanwhile, Adam listens primarily to Bjork's older albums, which have been described as sounding like a fly buzzing close to one's ear, or a cat being squashed. Finally, Ariella listens to a lot of 4KQ radio which, although less painful, Adam and Leah find very boring.
What is the inspiration behind your current work? What themes do you work with?
These vary from artist to artist and work to work, our main set of inspirations and themes are an appreciation of culture, our heritage, the natural world, histories, and our experiences of contemporary life.
Dreaming big, where can you see MALKI in the future?
Malki is just the beginning of our dream. The full realisation would be to make independent, completely limitless artwork both as individuals and as a collective. We consider Malki as an enthusiastic attempt to close the gap between art and fashion. As such, we dream of Malki being exhibited from the Met Gala, Vogue, and Paris Fashion Week to MoMA, Tate Modern, TEFAF, and Art Basel. Obviously ambition is not a quality we lack.
Share something of interest about your life or work that may not be obvious.
Malki is named after Rachel Arlette Malki and Guy David Malki, Ariella's parents and Lia and Adam's grandparents. The loving heads of our family have both recently celebrated their 85th birthday and have been together for over 70 years, since they were teens in the Algerian city of Constantine. Theirs is an eternal love which has formed the bedrock of our family and business.
Share any awards you have received, milestones, collaborations, or collections your work has been included in.
Lia has exhibited her work in Hong Kong, the United States, has been a finalist in the Stanthorpe Art Prize, and the recipient of the Lawson Gems Award.
Ariella's work has been published in the popular international book series "500 Raku," and has contributed to the production of educational material for Ulster University in the United Kingdom. She won the Moreton Bay Sculpture Award and has exhibited in the United States, Israel, and Australia has been included in multiple publications and is in a number of collections throughout the country.
Adam has exhibited his work in London, Hong Kong, Israel, and throughout Australia. He has won an international prize for ethical metalsmithing, taught at the Queensland College of Art, and was contracted by Queensland Art Gallery and Gallery of Modern Art as a reader for a recently published book.
Is there anything else you would like people to know about you, or your work?
Together as Malki, Ariella, Lia, and Adam make jewellery and art objects with soul. Malki aims to give our customers objects of self-empowerment, objects that protect and fortify as they adorn and speak to one's identity and world view. Malki is therefore more than a passing trend—it is a style, a way of life, a philosophy, and an investment in meaningful one-of-a-kind jewellery and art objects.