Melbourne Design Fair 2023 - Artist Feature: Grace Rosendale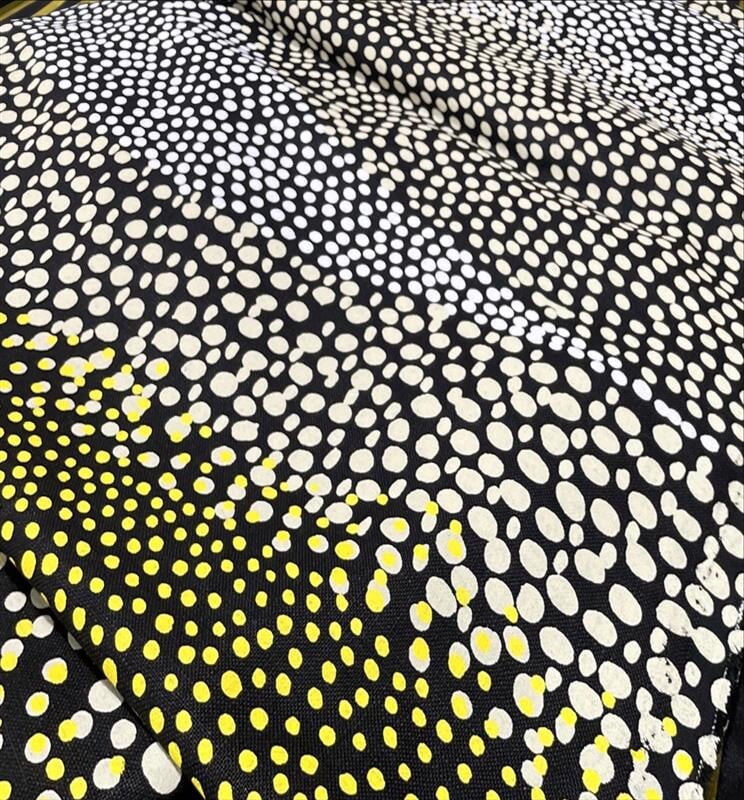 Grace Rosendale, Guuthi. 2019. Textile design, silkscreen on black linen. Courtesy of Hopevale Arts and Cultural Centre.
Grace Rosendale
Hopevale Arts
Cape York
Grace Rosendale is a long-standing member of the Gamba Gamba (senior women) group at the Hopevale Arts and Cultural Centre, in Cape York, Far North Queensland.
Grace Rosendale is a senior elder of the Binthi Warra clan. As one of the last fluent language speakers of Guugu Yimithirr, Grace's artwork focus is to ensure inter-generational sharing and preservation of language and culture between community Elders and Youth.
Artworks by the Gamba draw on traditional Guugu Yimmithirr Warra culture and contemporary and mission time histories. The women hold deep cultural knowledge of family kinship systems, sacred sites, esoteric characters and totems.
Grace completed her Diploma in Visual Arts through TAFE, Cairns.
Guuthi: This design depicts a story from my country, Guuthi sandhill is a sacred site for my ancestors. The freshwater lagoon has healing waters. My father was very sick one time when they were working up on there, repairing fences. He felt sick and they thought he was going to die. He asked the boys to leave him at the lagoon and go off to do their work. He was there all day and when they came back to camp, they found him good as gold. The healing waters had healed him in one day.