Meet Brisbane-based textile artist Martina Latimer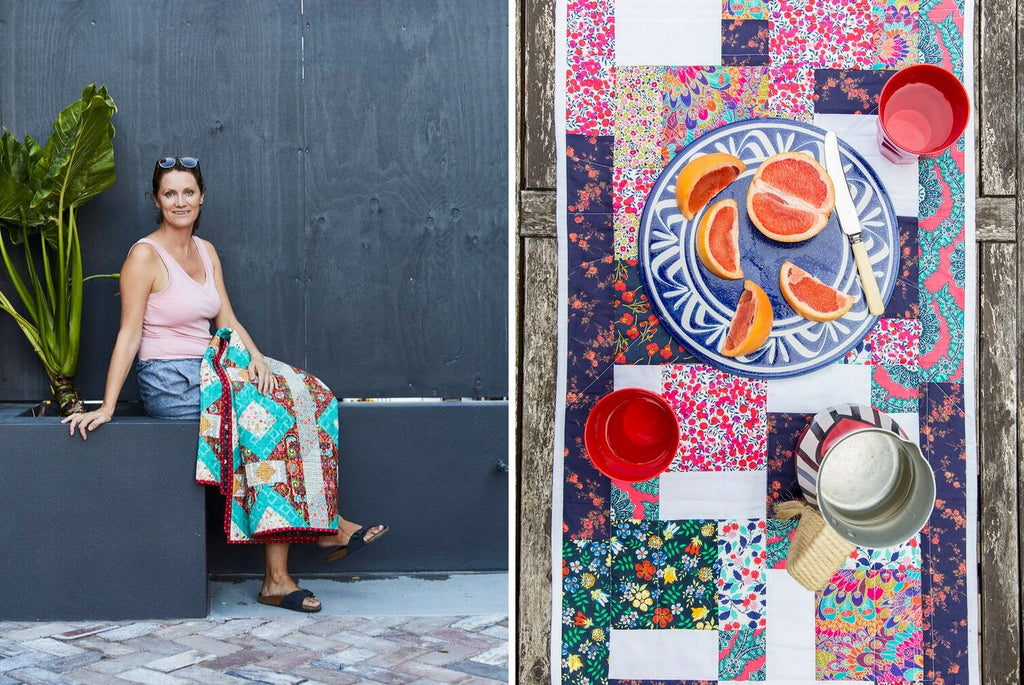 In advance of her upcoming Paper Cut Quilting workshop at artisan on Saturday 26 October, we caught up with Brisbane-based textile artist Martina Latimer. Originally from Austria, Martina designs contemporary quilt patterns, teaches quilting for all skill levels and exhibits her artwork. Martina created 'Paper Cut Quilting' shortly after arriving in Brisbane, aiming to bring something new to the quilting world.
Tell us a bit about yourself and your professional practice.
My professional background was in HR, and then ten years ago I turned my hobby of sewing and quilting into a business and now teach sewing and quilting to kids and adults, as well as create quilts on commission. What I do is modern quilting. I always look back and try to cherish the tradition of quilting. But then I interpret that in a contemporary way. Patchwork colours are traditionally brown or dark colours, whereas my colour palette is very bright. I use my imagination a lot more in what I do, creating new shapes and adding 3d work. When you look at the Paper Cut Quilting that I teach, it respects the quilting tradition, but it has a very new and free approach in the sense that people can put themselves into it. What I try to achieve is to empower people to create.
Can you tell us more about Paper Cut Quilting? 
I started Paper Cut Quilting when I arrived in Brisbane about two and a half years ago. I have always liked to try new things and I wanted to bring something new to quilting. My Paper Cut Quilting is based on the Hawaiian quilting technique, which is also paper cut, but Hawaiian quilt designs are mostly floral patterns. I thought it would be really interesting to cut a range of shapes out of paper, and also use a memory or a photo of nature for inspiration. If you look at the colour palette of nature you find it's perfect, you are in awe and can get the colour palette right straight away. Then you look at the memory and consider the emotion of that, and using the paper cut technique you can work that emotion into the quilting. For instance, when you are happy your shapes may be more gentle and round, whereas if you are agitated the shapes may turn out to be sharper. Feeling curious may turn out differently again.
What are the main things that inspire you in your creative practice?
People, nature and architecture inspire me. I'm very shape and colour-driven, so I find shapes and colours from nature inspiring. You look at the colour combinations in nature – and you may never have thought those colours would work well together – but they do. You can then try to find fabric that achieves those colours or combinations of colours. But I'm also inspired by talking to people and finding out their story, then incorporating that into my work. Most of my commissioned quilts incorporate those personal stories.
What should participants expect from your workshop?
Come along to the workshop at artisan and you will learn some of the traditional techniques of patchwork quilting and then move on to making your own creative work. This isn't a workshop for people to copy; it's really to a guided experience of cutting and overcoming obstacles to create a unique work. I will guide you through the creative process, helping you to let go and learn that there is no right or wrong. You'll end up with a small quilting project. And during the workshop we'll think about how you might continue with the project, by considering how to embellish the work or what you may like to make from the paper cut quilting piece. People should come with an open mind and be ready to create!
Join Martina's workshop 'Paper Cut Quilting' at artisan on Saturday 26 October. Book a place now.
Image: Courtesy of martinalatimer.com.