Fresh new swimwear label Tasha Rui to launch at artisan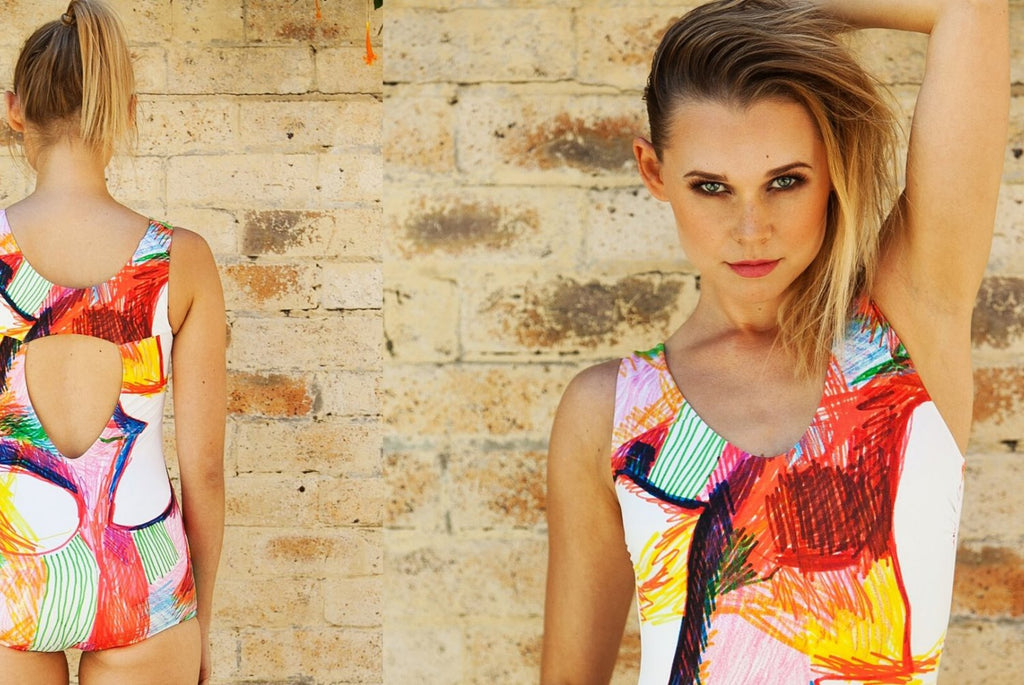 Tasha Rui is a fresh new swimwear label with original art, sustainability and cultural sensitivity at its heart. artisan is hosting the Tasha Rui Queensland launch on Saturday, 2 November, where you can learn more about the swimwear product range, meet Natasha, the Tasha Rui founder and designer and be one of the first to purchase from this exciting new range.
Ahead of this event, we spoke to the label's creator Natasha about her inspiration and what you can expect from the Pop-up launch.
You are a visual artist and designer, how did you come to be a fashion designer?
I've always played with printmaking and textiles. My mum sews and my great-aunt was a costume designer in the West End in London and Sydney, so I always had a fascination with clothes. In 2015 I started chatting with the QUT Creative Enterprise Australia program about the idea of putting my artwork onto scarves. They encouraged me to get involved in some creative business models and I was accepted for a competitive fashion accelerator program in 2016.
During the Accelerator program I was encouraged to push beyond scarves and develop a full fashion range including homewares, women's garments and swimsuits. Through the development process of vision boarding and planning the range, as well as textile design and surface design, I became particularly interested in swimsuits.
I was encouraged by the feedback I received from a presentation to industry, including the Editor of Vogue Australia, Edwina McCann, that the swimsuits pop with textile designs matching the garment designs, they represent Australia and would be fantastic in the Australia market. 
What is the inspiration for the swimwear?
The label name 'Tasha Rui' pays homage to my New Zealand Maori and Portuguese heritage. One of our key values is cultural sensitivity, which means that we place the decision-making process for Tasha Rui through a whole set of other challenges for surface design and garment design, including considering modesty, appropriation and representation. We are also working with Indigenous and culturally diverse models from around the world.
The prints are all abstract, nature-based motifs. I have used still life drawing and painting to start the design. Each one is one-hundred percent original. 
When people come to the Pop-Up they'll find two one-piece swimsuits. One is a playful boy-leg swimsuit that's specifically designed for girls that want to go kayaking, surfing, water sports and generally play at the beach or in a pool. It's been designed to be durable with double-stitching and double-lined at the front. I designed it with the girl in mind that just wants to play and have a good time. The Simply Love one-piece is a high leg one piece. It's designed to be a bit cheeky and flattering for a woman who wants to show a bit more skin. There are the accessories in the matching prints - a wrap, a scarf, a beach tote, and a pouch to carry your beach accessories.
You describe your swimwear products as slow fashion. Can you tell us more about your environmentally sustainable approach?
We are making swimsuits that are quality so they can be worn for more than one season. But also, our production isn't rushed. It's well researched and we spend a lot of time on prototyping carefully to develop the garment design to make sure they are a flattering fit. 
We also use suppliers and manufacturers that are small local companies, so we do small limited editions rather than high volume production. The swimsuits are produced in Sydney and the accessories in Melbourne.
We're also thoughtful throughout our supply chain. The outer textile fabric ECONYL, which comes from Italy, was chosen because it is sourced from post-consumer plastic waste like ghost nets and fabric scraps from the ocean and regenerated into a nylon structure with stronger bonds which is blended with lycra. Not only does this reduce greenhouse emissions, but it also less likely to become micro-plastic, and it's supporting a supply chain that helps to save our oceans. This result is a really luxury fabric that's lovely to touch. The liner also features 100% recycled post-consumer plastic and is a high-quality textile sourced from Taiwan.
What are the most interesting challenges that you've overcome?
There have been many challenges. When you're designing a quality product for other people, you're balancing your vision with what will work well in the market. But that's also the fun of the experience to be able to share your ideas and collaborate with other people. In this instance, I've collaborated with a lot of enthusiastic and passionate producers, pattern makers and printers.  
I also need to continuously check-in that what I'm doing fits within the values of the Tasha Rui label – making sure that I'm setting up a consistent brand that into the future will be able to maintain those values. 
You are just about to launch the Tasha Rui collection. Where do you see the label going in future?
I believe that Tasha Rui can become Australia's best original art swimwear label. That's why our Brisbane launch is at artisan, as we're taking more of a design approach to launching the label. 
But I also want the label to be recognised for having sustainability at its heart. When I was in high school I had to decide whether to pursue a career as an environmental scientist or a visual artist. I chose to be an artist, but I feel through designing for this label brings it all full circle. It makes sense for me as the perfect fit for me to achieve my values and share them with other people.
Drop into the Tasha Rui Pop-up launch at artisan on Saturday 2, November, 10.30AM - 3.30PM.