Tobias Titz x Ikuntji x artisan Limited Edition Prints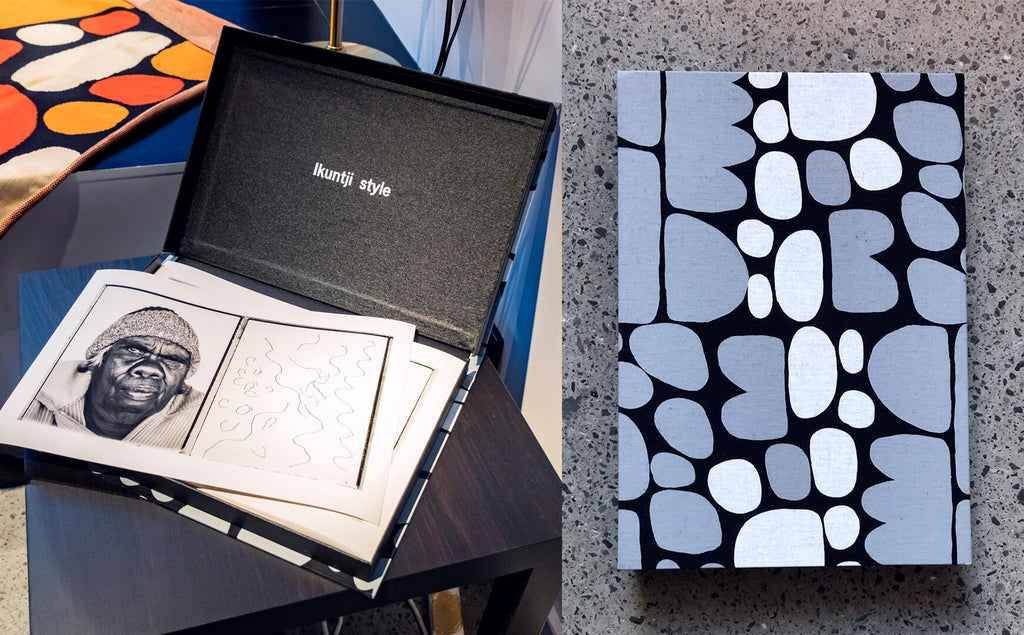 Limited Edition Prints
Ikuntji Style exhibition showcases photographer Tobias Titz unique body of work, featuring portraits of Ikuntji Artists, accompanied by their etchings. The Ikuntji fabric covered box set of 20 prints can be viewed in the exhibition from March 11 - June 3 2023 and is available to purchase. 
Limited to 10 boxed sets of 20 prints  - $1200
Enquire at store@artisan.org.au
Featured Ikuntji Artists: 
Alison Multa
Ann Lane
Daphne Marks
Dolcy Roberts
Ena Lane
Francis Marshall
Herman Whiskey
Joseph Lane
Kathleen Dixon
Keturah Zimran
Leonie Kamutu
Masie Jugadai
Patricia Multa
Patrick Nolan
Roseranna Larry
Serianne Butcher
Supakra Jugadai
Susie Lane
Virgillia Multa
Photographer Tobias Titz:
Tobias is a multi award winning photographer based in Melbourne, Australia.
Hehas exhibited his work extensively in Australia and Germany.
Tobias has worked with indigenous communities in the Pilbara, Arnhem Land, the Tiwi Islands, South and Central Australia for over 15 years and photographic work from these interactions is held in the Museum of Australian Democracy, the National Library, Canberra and the Southeast Museum of Photography, Florida,USA.
In the award winning Polaroid Project participants are invited to etch their message in the wet emulsion of the Polaroid negative.
His photographs are also included in the Polaroid Collection, USA, the Moran Foundation, Australia and numerous private collections in Australia, Europe and the USA.
Tobias won the HeadOn Photography Prize 2008, the Doug Moran Contemporary Photography Prize 2012 and the Art Handler Award at the National Photographic Portrait Prize 2017.
Tobias lectures Photography at Monash University.
Hero Image Credit: Limited Edition Print Box Set, Photography: Tobias Titz, Print Model: Leonie Kamutu, with Papa Tjukurrpa story. Box Set Fabric by: Keturah Zimran, Puli Puli Rock Story 

Second Image: Limited Edition Print Photography: Tobias Titz, Print Model: Keturah Zimran, Puli Puli Rock Story