Jac Dyson on Re: Watch & Wear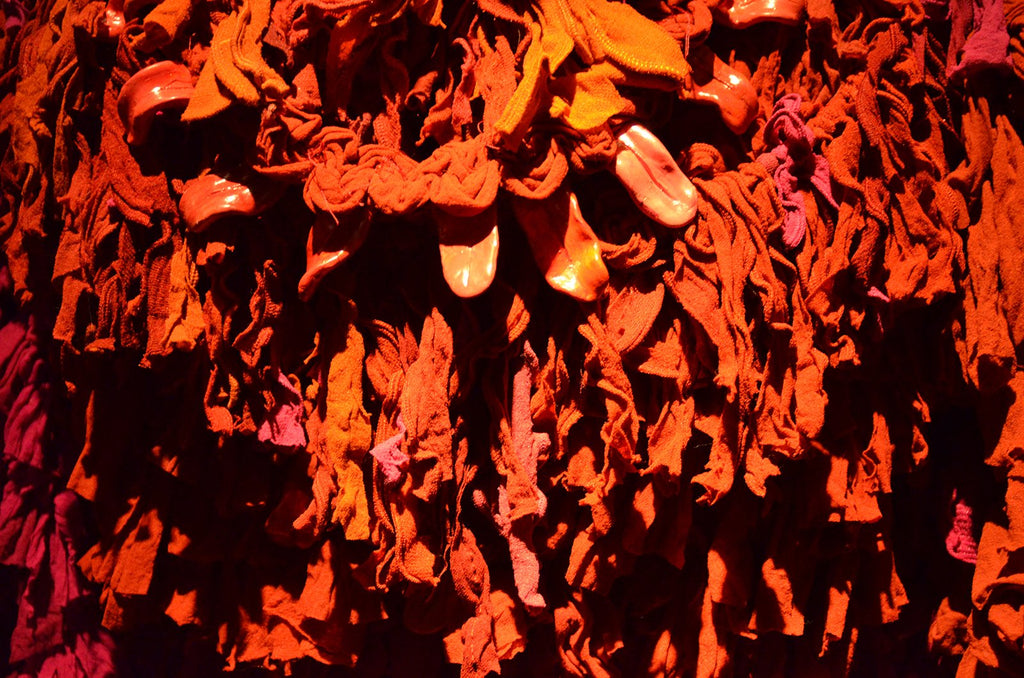 Queensland artists working with wearable objects and jewellery were asked to respond, in the form of a wearable loop, to a digital loop made by their paired animator. The person behind the concept is curator and artist, Jac Dyson, trained formally in both disciplines. The result is Re: Watch & Wear, Artisan's inagural exhibition in our new Small Object Space, and Jac's second stimulating iteration of pairing artists from one field with another.
Here's what Jac had to say about the exhibition – on at Artisan until Saturday 9 June. 
How do you describe the exhibition Re: Watch and Wear to your friends and family?
Re: Watch and Wear pairs animators and jewellers. Animators were asked to make an animated loop which the paired jeweller responded to in the form of a wearable loop: a necklace. The loops are displayed on small screens, ipods, with the coupled necklace beside. There are 16 creatives in this show: 8 artists working in Jewellery and 8 in Animation.
How did the concept of pairing a practitioner from one field with another come about?
I had a friend, a poet, who wanted to exhibit in a gallery but wasn't sure how to display her work in the white box setting. 'Would a poem, on a piece of paper, on the wall, be too simple' she asked? At the time, I was working on small metal sculptures for an exhibition, and I spoke to her about the possibility of displaying her poem in 3D, and about collaboration.
I was then co-directing an Artist Run Initiative (ARI), BUSYBRICK, and was interested in exploring, in a gallery setting, media that other ARIs weren't showing. I had been thinking about a jewellery exhibition and the coupling of poetry and jewellery was the right fit. It was also a collaboration that excited me. 
As someone who has trained in both animation and jewellery making, how does this process relate to you personally? What are you working on at the moment?
Working in both animation and jewellery, particularly at university where I was swapping degrees and often doing subjects in Jewellery and Animation, I noticed many similarities between the media. Each discipline informed the other, but I didn't purposely combine them. Animation is motion, and movement is present in my jewellery work. I intentionally create motion in my metal work, physically articulating parts that can shifted or taken out, replaced, or sculpted to suggest movement.
I certainly use my skills in one medium to enhance the other, for instance, I'd use my knowledge of jewellery to solder metal armatures for my stop motion puppets. In my current position I've been recording mini films, doing some time-lapses, and editing images, dialogue and sounds for display as part of larger projects. I'm really enjoying this aspect of my job and It makes me think about the process of animation, which, since leaving university, I seldom produce.
How did you put the exhibition together? What process did you follow? Why did you approach things in this way?
The timeline for this exhibition was quite tight for artists working in two separate disciplines. The animators had to make their work before the jewellers could begin theirs. I allowed the animators and jewellers the same length of time, and then allowed additional time for contingencies, and to photograph the works and get everything ready for install.
I put a callout for artists, but because of how soon the exhibition was approaching I drew most of the artists from my existing network. In most cases I had previously worked one-on-one with the creatives. In the early stages, I required bios, process shots and project briefs from the animators and I did studio visits with the jewellers. There were often process photos sent to me from the animators and lots of emails. 
How did this approach differ to your first iteration – pairing poets and jewellers – in Re: Out and On?
Re: Watch and Wear involved more contact between myself and the creative. In the earlier exhibition, Re: Out and On, the creatives were in contact with each other, with jewellers contacting their poets and discussing the work while in their making stage, and for that project I encouraged the communication. The focus was the work but also the possible connection and relationship between the paired makers.
For Re: Watch and Wear it remained separate. The pairs didn't know each other and actually didn't meet until the opening, or after! In Re: Watch and Wear I wanted the artists to feel free to make what they were going to make without being possibly influenced by dialogue with their paired artist. I wanted the work to be the focus. After the opening we had a get-together – the jewellers, animators and myself - and it was really wonderful hearing the responses and similar visions, lots of surprise connections. 
What have been the highlights of this process? Any unexpected delights?
Watching the finished animations during my lunch breaks, as they came in, was a delight, and I would watch them over and over. The variety of media was inspiring: hand drawn on paper, digital ink, 3D, claymation. There is an amazing magic in seeing pictures in motion. And then to see the jewellery and how each pairing had brought out different aspects of the works was exciting. 
And what is next for the future?
I'm looking at the next iteration of the Re: series. Also, there are a few animation projects on the horizon, and always things to make in the jewellery studio. I've recently moved to Gladstone and have been doing quite a bit of exploring of the neighbouring areas. The landscapes around here are inspiring a new series of metal work.
IMAGES
Mona Ryder, Ali Loo Yah (detail), 2018. Dyed stockings, binding, stainless steel wire,

super sculpey, acrylic paint, green beads and estapol.
LEFT Rob Coreless, The Harmony of the Worlds, 2017. Digital Animation
RIGHT Morgan-Louise Anderson, Fluid in Motion, 2018. Silver, copper and bronze.
Vivien Bedwell, Articulate, 2018. Aluminium and copper.
LEFT Maeve Baker, Milk, No Sugar, 2017. Digital animation.
RIGHT Samuel Lintern, Observer, 2018. Sterling silver, shibuichi and reclaimed glass element.
Lexi De Cora, Relentless, 2018. Bronze, acrylic spray paint and electrical cables.