Leah Emery discusses storytelling, cross-stitch and points of collision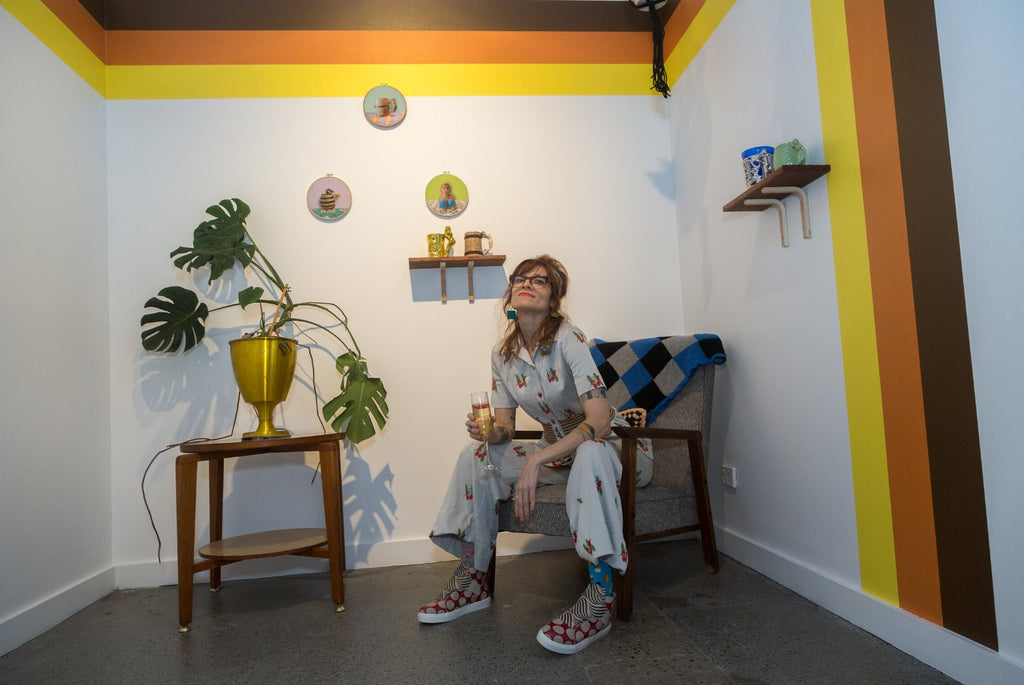 Working with traditional cross-stitch techniques, Leah Emery chooses imagery that achieves maximum contrast to the restrained, traditional female craft she employs. Her works can be seen as points of collision, where social history and material culture meet. With her works on show in Still Lyfe in artisan's Small-object space, we talked to Leah about her work and practice.
Q: Leah, please t

ell us a little about yourself? Your background?
After completing a very useful Bachelor of Arts undergrad degree, with a double major in Russian, I ended up becoming a self-taught 3D modeller in a video game development. During that time some particularly explicit spam emails found their way to my work inbox. At the time I was obsessively possessed by drawing and collage, as well as my digital art, and was forever gathering fodder to fuel my projects. When I had the revelation that a beautifully discordant way to explore the unsolicited images was through cross stitch, the concept took on a life of its own. It was such a perfectly chaotic fit. 
I set about learning how to cross stitch, and it became a great way to explore not only my own response to being presented with unsolicited pornography but also a subsequent exploration into the impact of exposure to sexual imagery in general. It has been useful as an exercise to allow me to delve into exploring the big, bad world of readily available smut through a beautiful and intricate means, and it continues to amuse and bemuse me.

Q: 

How do you describe your work?
My practice is largely concerned with packaging, often difficult content, in a shell of mirth and whimsy to pursue my storytelling. My works serve as a protest to the cultural etiquette of withholding healthy public access on topics surrounding gender identity, sex and intimacy, despite being so quintessential to the human experience. As well as an objection to cultural tendencies to promote and reward an unhealthy manipulated, homogenised body aesthetic.
Q: 

What media and techniques do you use?
Thanks to my time in video game development, I'm an obsessive Photoshop user, and I spend a lot of time creating what are often essentially digital collages before converting them into patterns. 
Q: 

Where does your desire to work with those themes come from?  
As much as I hadn't been a consumer of adult content prior to my art career, I've obviously had loads of exposure, as we all have. I loved the novelty section of sex shops as a youth and would buy 'risque' ice cube trays to use as moulds for making chocolates for friends' parties, and do a lot of my present shopping there. Consuming novelty items by the dozen was probably my slightly unorthodox way of engaging with my new world of sexuality. I've always seemed to favourably respond to dealing with issues when enshrouded in whimsy or satire or have a comical presentation. This feeds my work too.

After the initial bemusement subsided, I began infusing more conceptuality into my works, and use them as a protest against the cultural etiquette of withholding healthy public access on topics surrounding sex and intimacy, despite it being such a quintessential human function. Another issue that rubs me the wrong way that I feel obliged to address is the cultural tendency are to promote and reward an unhealthy, manipulated, homogenised body aesthetic. Pairing explicit content with such a beautiful, laborious medium is an effective avenue to dampen the confronting impact of the images and adds humorous permission to engage with imagery that would usually be purely voyeuristic. The world of vintage erotica is particularly successful in providing a refreshingly authentic display of carnality, thanks to its candid nature and rejection of blemish-free subjects. Instead, offering flailing limbs, natural hirsuteness, emotion and candour.
Q: 

What's your favourite part of the creative process?
I tend to emotionally disconnect as soon as I've finished a work and throw myself into the next one, so the formulation phase is my favourite. As much as I love the meditative process of the journey towards completing a cross stitch, the excitement is to be had in staring at a blank hoop in the initial throes of populating it with thread after the hours and hours of screen time taken to create the bulk of the conceptual component.
Q: Still Life

 is in artisan's Small-object space from 15 February – 28 March 2020. What is it about? What should audiences expect?

e?
Exploitative kitsch crockery ephemera must surely have been an entirely permeating phenomenon, as the volume of thrifted items and items on the second-hand market seem to be in no short supply. How did we culturally so comfortably offer this highly sexualised memorabilia as tourist souvenirs at stops along highways and as giftware in department stores? What an unnecessary additional obstacle to female empowerment these must have been. Yet in their abjecthood, there's almost a hint of endearment. We've grown up seeing such fare on the shelves of great uncles, in the sitting rooms of our grandparents and on the dusty bars elderly neighbours.

They were produced so en masse that I find myself a little blinded to their distasteful composition and see beyond into their objecthood. I'm not sure how to reconcile this, but as I contemplate my relationship to such items, I will instead offer them up as still life fare, in the vein of a twee Margaret Olley or Morandi, and be eternally confused by their hold on consumers of yore. My rendering of these kitsch crockery items in cross stitch is a homage to the women whose livelihoods were marred by the existence of such destructive whimsy.

In artisan's Small-object space I've created Still Lyfe, a homely kitsch 70s lounge room for a more thorough digestion of the works. I'd love for viewers to utilise the space, not only to view the works, but also to bring in some of their own handiwork, whether it be a craft project, perhaps knitting a scarf, or crocheting a vulva as is a popular subversive pastime in this day and age. Or maybe to sit with a book or a sketchpad and absorb the cheesy surrounds in an immersion experience.
Image: Leah Emery, Still Lyfe 1. Courtesy of @leahemeryart