Become an artisan Youth Board Observer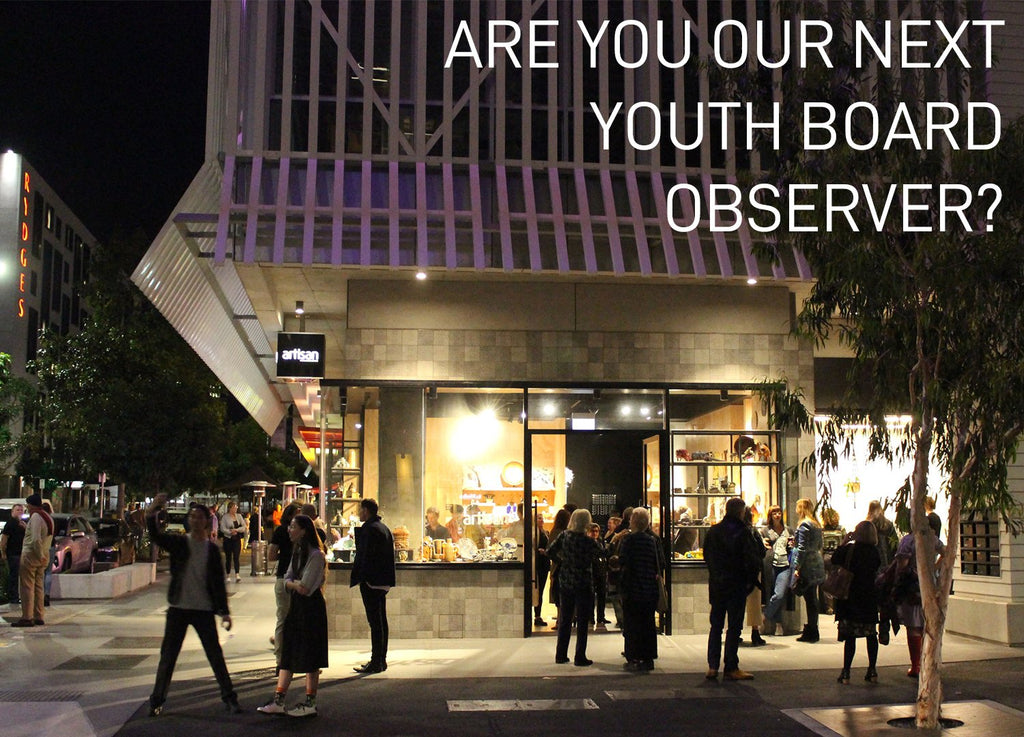 Are you artisan's next Youth Board Observer? Come to an engaging information session where artisan's Board of Directors discuss their significant experience serving on organisational boards. You will have the opportunity to ask questions at this session prior to submitting your EOI for consideration. 
artisan is offering an opportunity for one young (18 – 30 years) emerging leader to take up an observation position on the artisan Board of Directors. The observer role will allow you to understand the process of joining a board and what to expect when you are on a board. The Board Observer is invited to attend all monthly meetings of the artisan Board of Directors. Diversity is key for artisan and we encourage people from diverse backgrounds to take this opportunity.
The term offered is for a 12-month period. The artisan board meets 10 or 11 times per year. The observer would also be invited to Strategic Planning Meetings. Board meetings take place at 6pm on the last Wednesday of the month and generally run for 1.5 hours. 
Observer Role
has the right to attend and speak at board meetings;

is unable to vote or exercise any other rights that a company director usually has;

has the right to provide input to the board on the company's strategic and operational 

matters;

has no power or influence over the company;

cannot enter into contracts on behalf of the company or transact business in the 

company;

will not be held liable for any actions or decisions taken by the artisan Board of Directors; and

will observe all conflict of interest and board code of behaviour protocols provided in 

the Induction Kit.
Expressions of Interest open close 8 March 2024. Selected Candidates will be interviewed by the Chair and one other Director. The successful applicant will sign a Confidentiality and Board Observer Agreement. 
About

artisan
artisan is a Meanjin (Brisbane) based not-for-profit organisation that has provided leadership and advocacy for Queensland's craft and design sector for over 50 years. We deliver creative and commercial opportunities for our artists, and progressive creative programs for our audience. artisan is committed to broadening access, discourse and understanding, while driving economic development in the craft and design eco-system. 
artisan presents an annual program of exhibitions, workshops, masterclasses, retail initiatives and engagement activities. We showcase the excellence and diversity of Queensland, Australian, and international craft and design. The purpose-built premise in King Street, Bowen Hills houses our main gallery, retail showcase and a dedicated workshop space.
As a small organisation in a large state, artisan collaborates with makers and craft and design centres across Queensland to ensure regional representation. Our online workshops, digital exhibition tours and e-commerce platform invite a global audience. 
When you buy with, support or participate with artisan, you are making an investment in our cultural future by allowing designers and craftspeople to carry forward traditions, supporting the continuation of artisanal creativity for generations to come.
artisan is fortunate to receive continued support from The Australia Council for the Arts and Arts Queensland together with a generous group of Corporate Patrons and Sponsors.
artisan Board of Directors
The artisan Board of Directors is drawn from the business and arts sector in Brisbane. The board members are:
Dr. Chetana Andary – Chair
Carmel Haugh – Vice Chair
Mike Hill – Treasurer
Dilshani Weerasinghe
Gavan Ranger – Director
Dr Carol McGregor– Director
Angela Spillane – Director
Myf Halton - Director
Any questions, please email Co Director Simone Linssen executivedirector@artisan.org.au
Continue to application